Security Solutions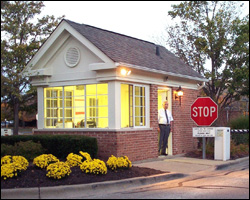 Admiral Security provides unarmed, uniformed security officers for industrial complexes, corporate headquarters, nursing homes, residential and office buildings, and gate-house communities. Our guards control access to your premises and help protect against fire, theft, vandalism, and criminal activity.
Admiral's security officers present a visible deterrent while skillfully assisting authorized visitors, employees, and other vendors.
We are a licensed security contractor agency in the State of Illinois (License #122-000452).
Admiral Security provides complete unarmed security services:
Screening and hiring
Handling payroll, benefits, liability and workers compensation insurance requirements
Paying competitive wages and benefits to promote stability and loyalty
Developing a professionally written operations manual for your building
Providing replacement staff for regular employees when they're absent, on vacation, or sick
Providing initial and on-going, annual training
Supplying professional uniforms at no cost to the employee
Completing and submitting daily operations and incident reports
Supervising staff 24/7 and providing emergency support
Admiral enjoys a favorable reputation with its employees as a good place to work. Approximately half of newly-hired employees are the result of internal referrals.
We make background checks with prior employers, qualified references, law-enforcement and administrative agencies, to the extent legally permitted. We submit fingerprints and other information to the FBI and the Illinois State Police for their review.
In addition to background checking, we require drug screening with a standard, Federal Government-approved six panel Department of Transportation test as a condition of hire for 100% of new employees.
Existing employees are subject to re-testing upon our request.