Providing Chicago With Superior Door Staff Solutions
Since 1967, clients have relied on Admiral Security to meet their Door Staff and security needs efficiently and within budget. 
Admiral provides Door Staff personnel for residential Buildings as well as unarmed security officers for residential and corporate facilities throughout the Chicago area.
Our trained, uniformed Door Staff greet residents and their guests, monitor access, and handle packages and deliveries. Our security officers patrol and help protect residential and commercial properties.
Using Admiral for your Door Staff and security needs allows Management to focus on its core responsibilities.
Beginning with hiring and training reliable employees, we manage human resources, payroll and benefits; maintain liability and workers' compensation and unemployment insurance for them; oversee scheduling and operations; and, above all, provide exceptional customer service.
Contact us today at 847-588-0888 to find out how Admiral Security can help ensure your property is fully staffed and provides top-notch customer service.
Admiral Security is a licensed security contractor agency in the State of Illinois. (License #122-000452).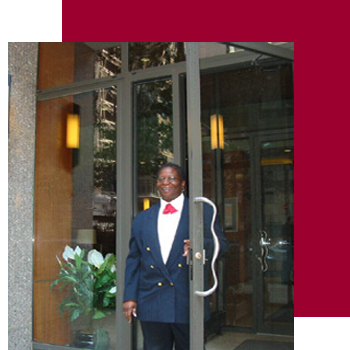 Admiral is proud to be a member of the following organizations: